Now available: call-recording solution to help you comply with new CMS regulations this AEP. Create Your Account
Cirrusview

Acquire and Serve High-Level Clients With Tax-Saving Strategies
The CirrusView™ program is a turnkey, repeatable process to help increase annuity and life insurance sales and assets under management by helping high-net-worth clients with tax-saving strategies in retirement.
Differentiate Yourself. Fuel Referrals.
With a name inspired by the highest altitude cirrus clouds, the CirrusView program provides your clients a high-level view — a different, wider view — of retirement than what advisors typically discuss. Word will spread about you saving clients thousands of dollars that otherwise would have gone to pay taxes, and your business will grow.
What You Get with Cirrusview

Marketing Resources
Attract prospects and engage clients with:
Seminar presentations
Customizable books, TV and radio scripts
One-pagers
White papers
Worksheets
Software and Reports
Tell the story of what your client could potentially pay in taxes and how your solutions will lessen the tax burden — an eye-opening experience that converts them to clients. Reports include:
Side-by-side comparisons of taxes with indexed universal life (IUL) insurance or individual retirement account (IRA)
A client's tax burden
Tax, wealth and income analysis
Potential tax impact
Cost analysis of an IUL contract
Training and Coaching
Refine your skills and do more IUL with what you learn in online courses, monthly roundtable webinars, and personal support — no matter your level of experience.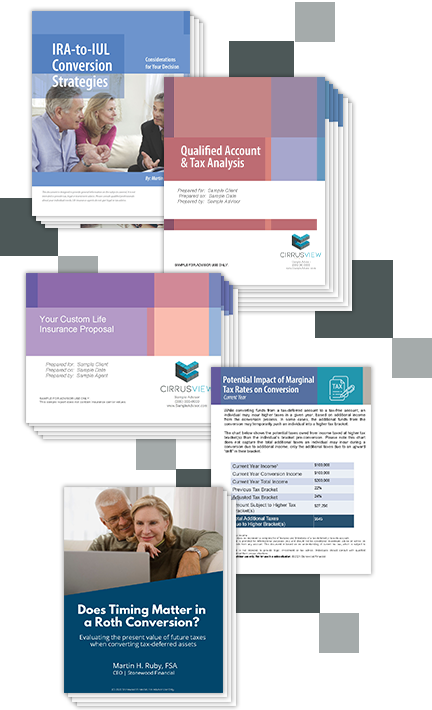 Learn More About the CirrusView Process
Are you ready to provide clients a macro view of retirement and grow your business? Fill out this form, and we'll show you the CirrusView system, including a demonstration of the software.