Financial advisors, if you brush off Medicare because you assume affluent prospects don't worry about paying for health care in retirement, you could be missing out on a massive opportunity.
An annual survey by the Nationwide Retirement Institute looked for the first time this year at affluent Americans — those with $150,000 or more in annual income and 50 years old or older. Most of the affluent survey respondents, 64%, said they were "terrified" about the potential impact of health care expenses on their retirement plans. Despite their access to more resources like personalized financial advice, 48% of those who had retained financial advisors were not discussing health care costs with their advisors. And most of the survey respondents, 60%, could not cover more than $5,000 in unplanned expenses.
Don't fall victim to the common misperception that Medicare recipients aren't your ideal client because they don't have investable assets. Helping clients enroll in Medicare can be an easy way to reach prospects and can lay the foundation for lifetime clients. By reviewing their plans every year during the Open Enrollment Period (Oct. 15 through Dec. 7), you are helping them manage the health care piece of their retirement plan — a piece that is increasingly being seen as necessary to financial plans that are in clients' best interests.
Senior Market Sales® (SMS) has a new tool that makes it easy for you to show that their concerns about health care costs are legitimate and positions you to provide solutions. (More on that later.)
Medicare: The First Step
Why is Medicare an easy lead generator? Everyone needs to decide whether to enroll in a Medicare Supplement or Medicare Advantage health insurance plan and a Part D Prescription Drug plan as their 65th birthday approaches. So you can see how it's inherently easier to help a new client select a Medicare plan than to convince them they need to hand over their life savings to buy an annuity, right? Mentally, they're probably more willing to discuss their immediate Medicare questions with a stranger — you — than how long they expect to live and if their money will run out.
But if they've formed a relationship with you because you helped make the Medicare enrollment experience stress-free and you save them money each year during open enrollment, they're more likely to seek your professional advice when grappling with when they can afford to retire or how to pay for a nursing home.
Additionally, if you're helping them make smart decisions early in their retirement journey, you're setting them up for better financial success in retirement. Medicare planning is essentially asset protection.
If you don't already have a process in place, using Medicare as a lead generator can serve as a solid foundation, or first step.

Addressing Health Care Costs with Income ArchiTech
August 9, 2018, 2 PM Central Time
Register Now

Process? What Process?
Having a repeatable process will be critical to your success moving forward in an era of heightened consumer expectations, according to the SMS white paper, "The Journey: Showing Clients the Way, Not Just Returns." The white paper asserts that the ultimate value an advisor delivers to a client is confidence, so ensuring that you maintain the client's confidence in your process should be your highest priority.
Whether you're creating a process from scratch, refining your existing process or widening it to include Medicare and health care, SMS can provide support. SMS can answer questions and provide contracting support to help you enter the Medicare space and also to seamlessly integrate your existing services with the new services.
Showing the Impact of Health Care Costs
SMS also has a new all-in-one planning tool, Income ArchiTech™, which can provide the structure or framework for your process. Using Medicare as part of your process in combination with Income ArchiTech — and even your existing technology — positions you to easily pivot from the health care discussion to broader retirement income issues.
If you're helping a client enroll in Medicare, you can educate them on the need to review their plan each year and to avoid costly penalties that could cost them thousands of dollars over time. You can use an Income ArchiTech stress test to show the impact of health care costs and other monthly expenses on their anticipated retirement income, opening a discussion for how to mitigate the risk.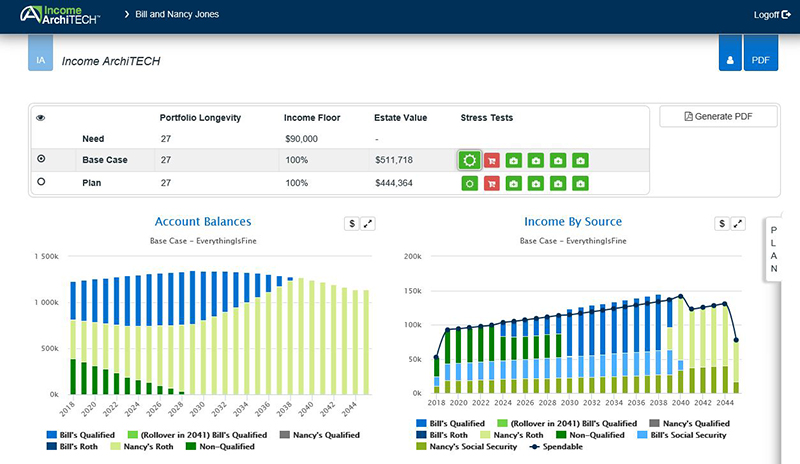 Or say you're reviewing a couple's plan during open enrollment and they share their worry that the high cost of prescriptions is eating into their retirement savings. These real-life scenarios are opportunities to discuss the risks associated with health care events, such as an extended care event, and how Medicare doesn't cover everything. Pointing out that it doesn't cover long-term care (LTC) can be a real eye-opener to many people. Income ArchiTech can help you show how their retirement income may fall short and lets you apply different solutions, from hybrid life-and-LTC insurance, to annuities to find the right one for each client.
One Tool, Many Discussions
This is just one of numerous ways that Income ArchiTech makes it easy for any type of retirement planning professional to help clients see their retirement income needs and positions you as the expert with solutions. Medicare is one obvious door opener to the bigger retirement income discussion, but the tool also can help you show your value to clients with another retirement milestone: when to claim Social Security. By including Social Security and Medicare in your retirement planning, you can help clients identify income gaps and find the solutions to fill them.
Income ArchiTech helps you illustrate the rationale behind your suggestions. See this powerful tool in action — watch a demo.
If you would like to discuss how you can start using Income ArchiTech, call an SMS Marketing Consultant at 1.800.786.5566.