More than 100 agents and advisors from all the over the country were in Omaha for the fourth annual Sales Forum held June 10 – 12, 2015. With 17 individual breakout sessions during the two-day program, attendees had the opportunity to learn about a variety of topics, including extended care planning with hybrid long-term care products, turnkey marketing solutions for life insurance, Social Security planning, income planning solutions and much more.
Many agents expressed that the best part of the event was the opportunity to network and discuss their practice with other top professionals. "I love sharing ideas, hearing what other people are doing to try to elevate our practice to the next level," said Dan Zeiger. "SMS has gone above and beyond in introducing us to other top professionals. We all do things a little bit different and we can all steal from each other, which is great."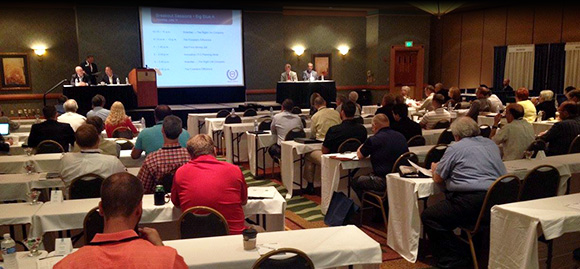 Tom Ruane agreed, adding, "We don't do that in our communities, because everybody's competition. So you only do it when you have a group that has some common interest and, quite frankly, different markets, and then what you can learn through that exchange really helps you build your practice."
One of the highlights of the event was a producer roundtable in which four of SMS' top President's Club agents discussed how they run their practices, their sales techniques and how they market themselves and get referrals.
The Sales Forum was sponsored by Ameritas, Annexus, Athene, Foresters, National Guardian, National Western, Nationwide, North American Company and Prudential. Thank you to our sponsors and all those who attended. We hope to see all of you at next year's event.
View a photo gallery from the event.